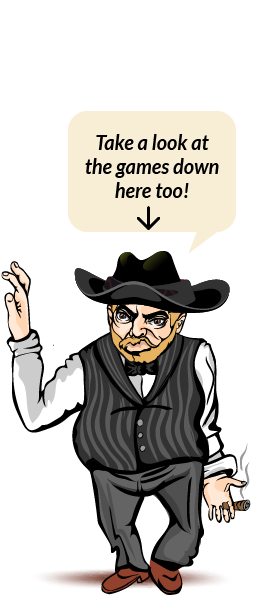 Northern Sky
There's no denying the fact that Book of Duat meets the market's standards and is more than capable of meeting and/or exceeding your expectations.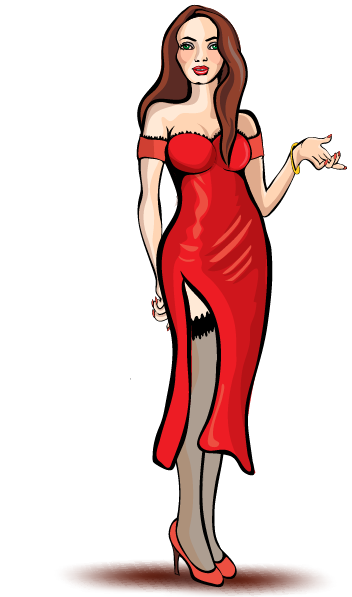 Northern Sky
There's no denying the fact that Book of Duat meets the market's standards and is more than capable of meeting and/or exceeding your expectations.
Northern Sky Slot Review
Northern Sky is another slot by Quickspin, set in the distant rural lands of Scandinavia, you get to enjoy the amazing views of the northern crystal lights. As you bask in the serene ambience of the cold tundra, you will spin the reels with symbols made of pure crystal.

As in other Quickspin titles, the visuals in Northern Sky are distinct and relatively unique. This slot has some interesting features to offer, which we will cover in complete detail in this review. Another title proves that Quickspin has an outstanding art time in charge of the visuals.
But game visuals are not the only thing players are concerned about when deciding which slot game to put their time and money into. So, let's take a look at how rewarding Northern Sky can be for the player.
RTP and Variance
To decide whether Northern Sky is worth our time and money in terms of rewards, we need to take a look at the RTP and volatility of the game.
RTP stands for return-to-player, and it will determine how much money potentially we can get back for each €100 spent on spinning the reels. In our case, the slot has an RTP of 96.57% which is considered to be slightly above average for a slot game.
The volatility on the other hand is high, which means that while rewards may be less frequent in the game when they do come they will be on the higher end. If you are a fan of a more dynamic gameplay pace, Northern Sky might just be the game for you.
Overall, you stand to gain approximately €96 for each €100 wagered in the game, which is a theoretical number measured over many spins. However, it should come pretty close to that number in practice.
Featured Symbols
For players who like a different setting than the commonly found symbols in other slot games, Northern Sky has a distinct visual design that should cater for a player seeking something new.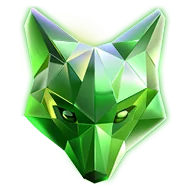 All the symbols in the game are based on animals that would be found in the territory of the setting of the game, which is Scandinavia. Such animals are the owl, the bear, a wolf and the stag. However, they are illustrated in fully crystalized glory, to make them more unique than other games.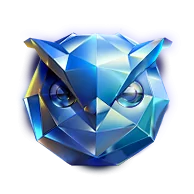 For the low-paying symbols, instead of using letters and numbers, or the playing card symbols, Quickspin has used a purple crystal, green crystal and a red crystal to keep all symbols in line with the overarching theme of the game.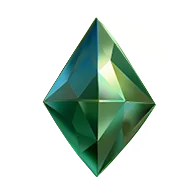 From lowest to highest paying the symbols are the following:
Purple crystal
Green crystal
Red Crystal
Owl symbol
Wolf symbol
Bear symbol
Stag symbol
Their value depends on how many you line up in a combination. You can expect to get 4000 coins for matching 5 of the higher paying animal symbols, and 50 coins for matching 3. It all depends on which symbol you manage to line up.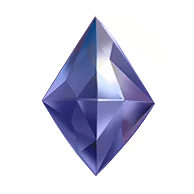 As for the lower paying symbols you can expect anywhere from 20 to 200 coins depending on whether you manage to match up 3, or 5 symbols in a line. The symbols are rewarding enough to make the gameplay fun and dynamic which is good if you're after winning money and not just fun.
Gameplay
The gameplay part is maybe one of the most important aspects of the game after the monetary aspect, or equally important. In this section, we will go over each gameplay aspect to see how the game plays in real-time whether you are playing for fun or money.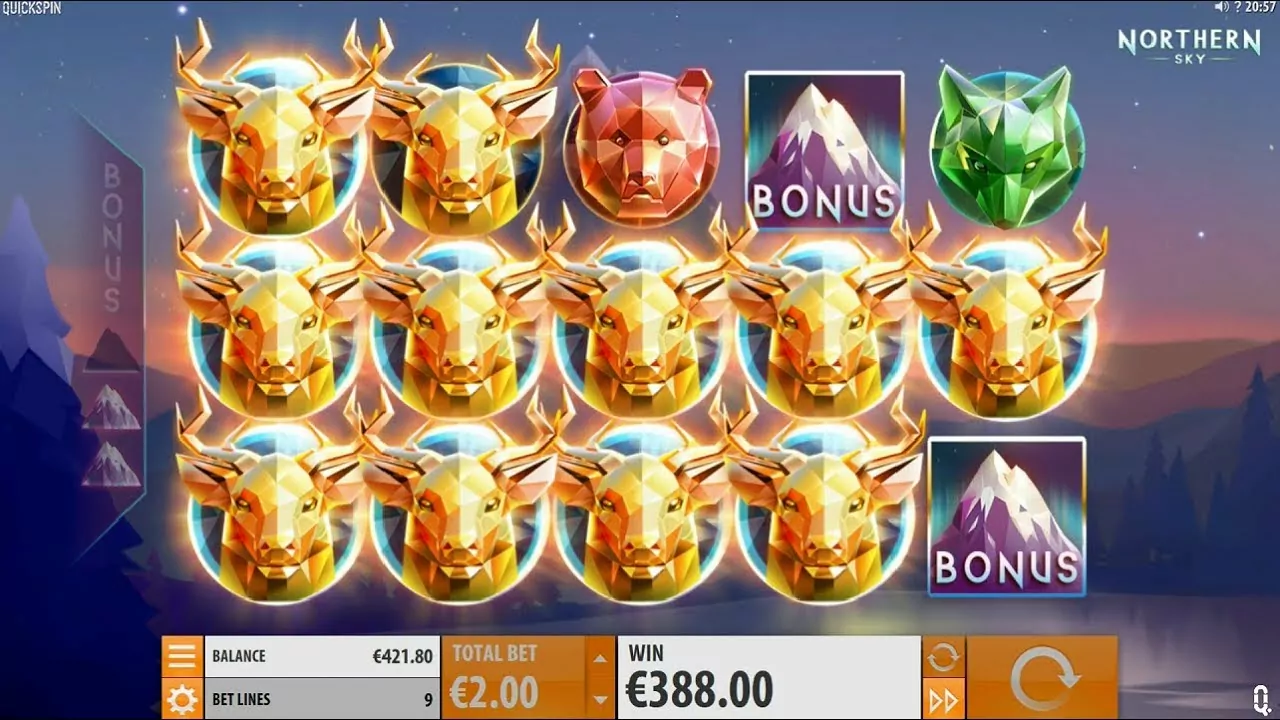 Northern Sky is laid out on a 5×3 gameboard and has 9 fixed paylines. This is a common setup for slot games, which makes them more accessible to beginners because they have no complicated overlay with lots of ways to make winning combinations.
With a wide range of betting options available, this makes the game accessible to players with different budgets. The game can be enjoyed both by people on a small, and people on a big budget. Furthermore, the minimum bet starts at 0.10 and the highest is 100 coins.
Seven symbols in total are present in the game, divided into two groups of low-paying, and high-paying symbols. There is no middle tier in the slot, which greatly contributes to the simplicity of the game.
Overall, the UI is very simple and is the same for almost all Quickspin games. All the buttons are laid out nicely and can be located easily with a single glance at the screen. An autoplay button is also available if you're feeling like letting go of the reigns and letting the game take over for you.
Bonus Features
Like other Quickspin games, Northern Sky features some added features which will make the game more rewarding and more fun. In this particular slot, game enhancement can be found in the form of respins and free spins.
Both bonus features increase the likelihood of going home with your pockets full, by enabling you to spin the reels for free, and in turn win some nice rewards which help your bottom line in the long run and increase the return on investment.
Respin Feature
The respin features allow you to trigger the feature after landing a winning combination of 3 to 5 symbols. It's an interesting take on the respin feature, as the non-winning symbols are removed from the reels and replaced with new symbols which will in turn help you form a new combination.
This feature will continue until all winning combinations are exhausted.
Free Spins Feature
When Scatter symbols are lined up in a winning combination you receive 10 free spins. There's a Bonus meter which is filled when Scatter symbols are collected. The Free Spins can be played only with the tier of high-paying symbols.
Lots of Quickspin games have free spins as their bonus feature. If you prefer to play games that have this feature, you could also try Eastern Emeralds Megaways. It works on the Megaways principle, and it has free spins as its bonus game.
Graphics and Mobile Compatibility
When it comes to the graphics of the slot, we can say that when it comes to slots they are relatively unique, and different from other slot games found on the market. The backdrop of the reels features a tundra located in Scandinavia, illustrated in fine detail and looks great in HD.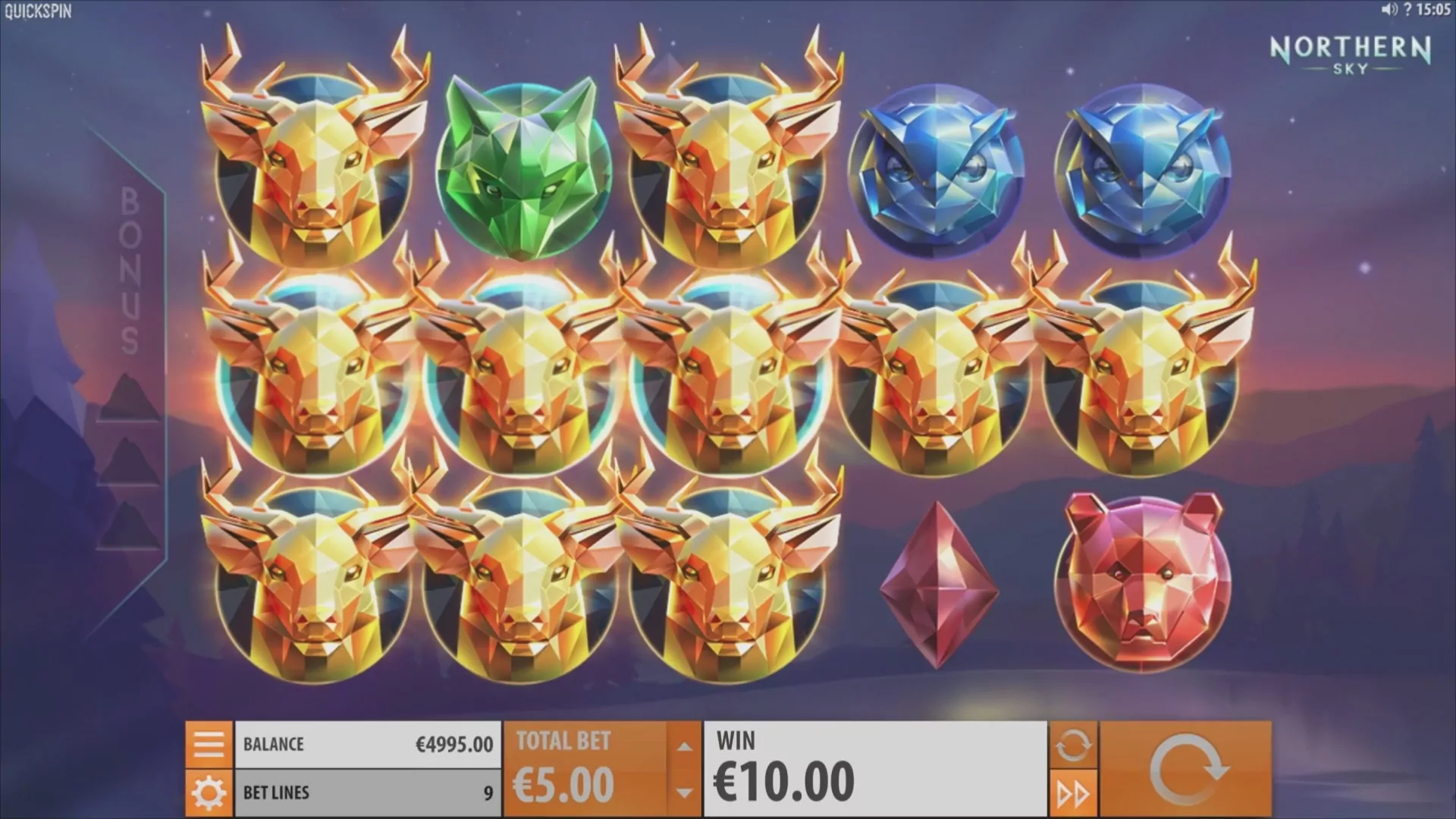 If you are a mobile-first player, worry not. Northern Sky is fully mobile compatible with any mobile device that supports HTML5, which should be pretty much any mobile phone on the market.
As long as you are connected to the internet, you will be able to access the slot, without losing any of the features found in the desktop version of the game.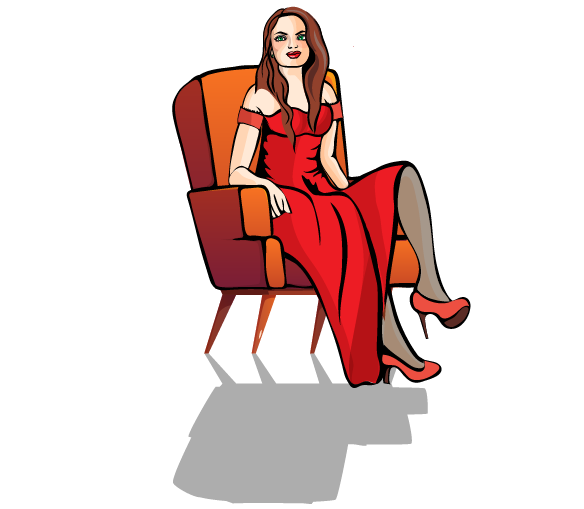 Verdict
Northern Sky is a simple slot game which can easily be played by any level of player, be it beginner or veteran. It features nice graphics and mobile compatibility which will allow you to play on any kind of device of your choice.
The bonus features are nice and have the potential to reward you with nice rewards as long as you're lucky during the respin and free spins phase of the game. It has a low betting range which makes it easily accessible to people with lower budgets.
Northern Sky FAQ
What is the minimum bet in Northern Sky?
Northern Sky has a minimum bet of 0.10 which makes it very accessible for people on a tight budget. This is good especially if you are a beginner in the world of gambling.
Can Northern Sky be played for free?
Northern Sky can be played for free at any place where the game can be accessed online. Trying out the game for free is a good idea so you can see whether you like it first.
What is the RTP of Northern Sky?
The RTP of Northern Sky is 96.57% which makes the RTP of this slot slightly above average.
Where can Northern Sky be played?
Northern Sky can be played at many online casinos which are licensed and certified by different gaming and gambling commissions. Check whether your preferred casino has the game in its library.
Is this slot mobile compatible?
This slot is fully mobile compatible and can be accessed on any mobile device that supports HTML5, and has an active internet connection.
Would you like to play this slot for real?
Grab one of these exclusive bonuses!